Hi Daydreamer!
Today you will learn, from start to finish, how to make custom T-shirts with your Cricut Maker or Explore.
One of the biggest reasons people, including myself, buy a Cricut is because you can make beautiful T-shirts. If you have Cricut and haven't explored this feature yet, I recommend you to do it. If possible today.
Seriously!
I don't mean to be pushy, but I love all the things you can accomplish with this machine.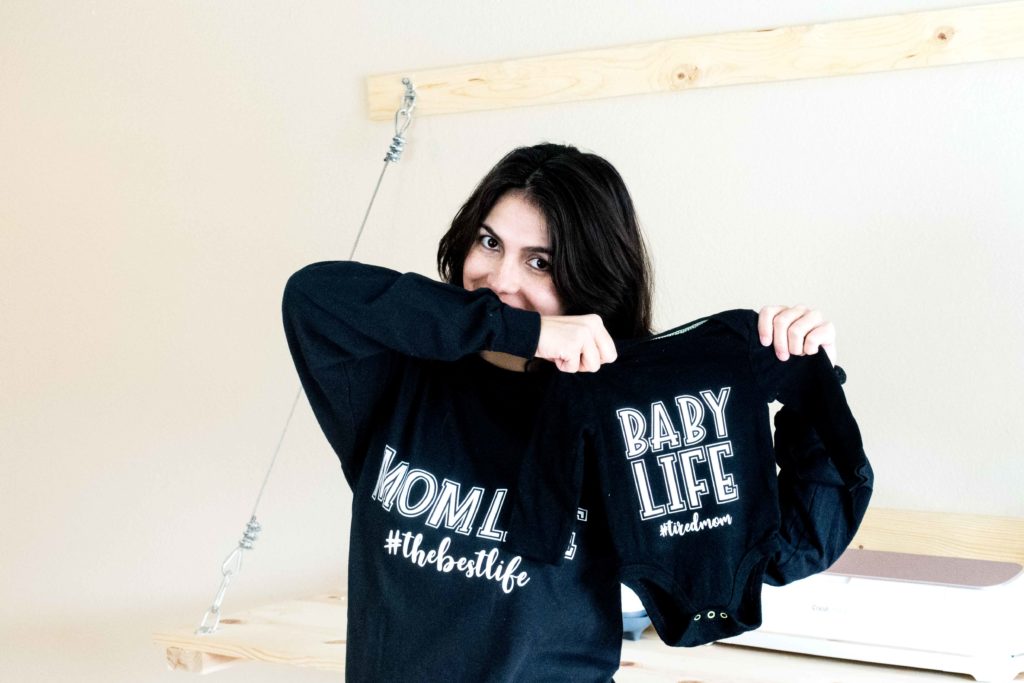 On this step by step tutorial, we will be covering the three most important aspects that every custom T-shirt must undergo to have the best possible and long-lasting results.
Uploading the SVG files to Cricut Design Space and touching things up. I will be providing you with two SVG files for you to follow along as well.
The cutting and weeding process. I will teach you how to arrange the designs on the MAT as well as the best practices for weeding, plus how to cut it with either the Cricut Maker or Explore Air.
For transferring the design on your T-Shirt, we will be using both a regular iron and the EasyPress 2, so no matter what you have on hand. I've got you covered.
Tip: If you see there's something that doesn't quite look the same in the software screenshots (trust me I am working hard to change them) please check out my Stay up to date with Cricut Design Space article so you know what changes you need to keep in mind.
Make a Custom T-Shirt Step by Step Tutorial
Before we get our hands on this project, I want to explain to you how this tutorial will unfold (I don't want you to get confused).
There are two SVG files that we will be using:
MOM LIFE #thebestlife
BABY LIFE #tiredmom
Here's the thing. Since both files are very similar, I will only explain the Cricut Design Space cutting and weeding steps with the first file MOM LIFE #thebestlife.
However, for the transfer process, I will be using both designs. For the "MOM LIFE" file, I will be using the EasyPress 2. And for the "BABY LIFE" file, I will be using my household iron.
With that said, let's get started!
Download the files to follow along!
Note: You need to be from a desktop computer
Make sure to follow me on Instagram and tag me so I can see all of your creations! (I'd love to see you over there).
Oh! And just so you know, I also have a FREE growing library with tons of printables and SVG files ready to be cut.

I would love for you to be able to get access to all of them. It's 100% Free for my daydreamers (aka subscribers) check out a live preview here, or get access here.
Materials
The materials for this project are very simple. Here is a list of everything I used:
Long Sleeve Black T-shirt & Black Onesie (or any T-shirt you have on hand)
Fine Point Blade & Light Grip Mat (Standard Mat works great too)
Regular Household Iron Or EasyPress 2
Small Towel + Parchment Paper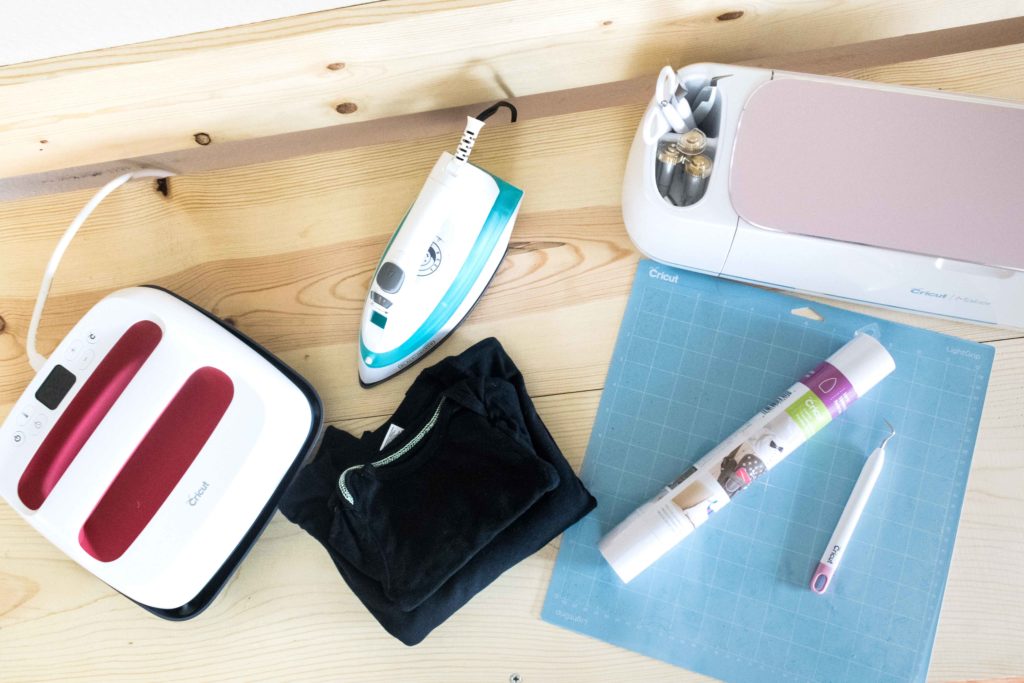 Cricut Design Space Steps
Once you have downloaded the SVG files I provided at the beginning of this tutorial, go ahead and log in on your Cricut Design Space.
If you are a beginner and are still figuring out Cricut's software, I recommend that you read my fantastic and Ultimate Cricut Design Space tutorial. 
Now let's have some fun!
1. Upload your Files & Attach
After saving your file on your computer, go ahead on and click on the upload option located on the left panel of the canvas area.
As you can see in the screenshot down below, you can now upload an image and or a pattern. Go ahead and click on the upload image button and select the SVG file from your computer. After you do that, the image will appear on recently uploaded images.
Select the uploaded MOM LIFE SVG and then click on insert images.
After clicking on insert images, the file will show up inside the Design Space Canvas area.
Now, it's time for you to resize the file to fit your T-shirt. You can do this by either selecting all elements and then adjusting the width and the height in the edit panel area, or by dragging the lower right corner of the selection.
After resizing there's something fundamental you need to do as well. You need to attach all of the elements.
Select all of the layers and then click on Attach located at the bottom of the Layers panel, this will ensure you that when you click on Make it, all of the words remain in the order you see it on the canvas area.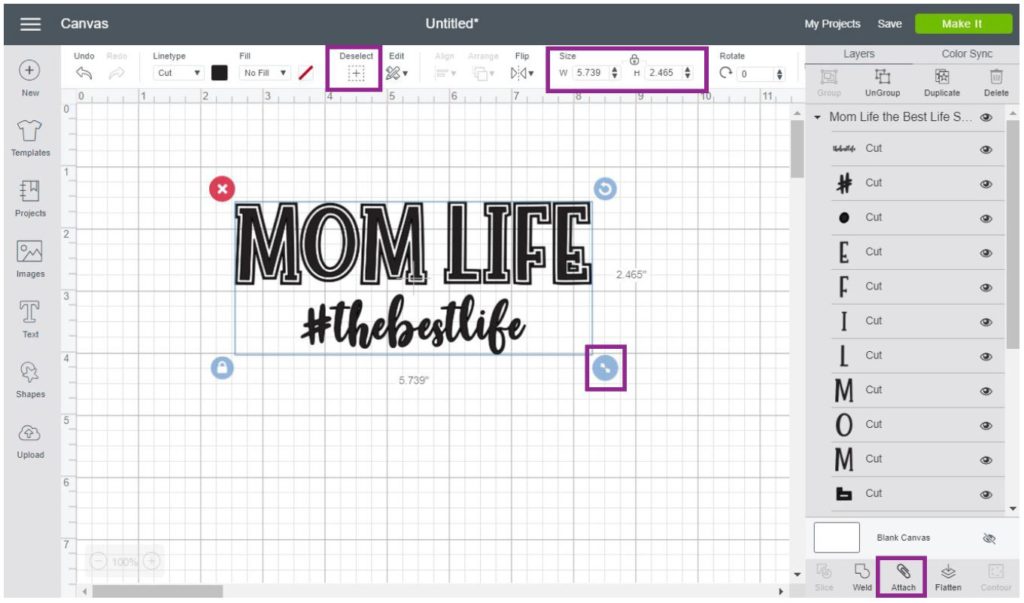 One of my favorite things to do when I am making a T-shirt design is to use templates. This option takes so much pressure off my shoulders, and it gives me the peace of mind to know how my design will look on my T-shirt!
Here is how you do it!
Tip: Use templates to visualize your design
On the left panel of the canvas area, there is an icon called templates. When you click on templates, you will be able to explore all of the surfaces available for you to visualize your design.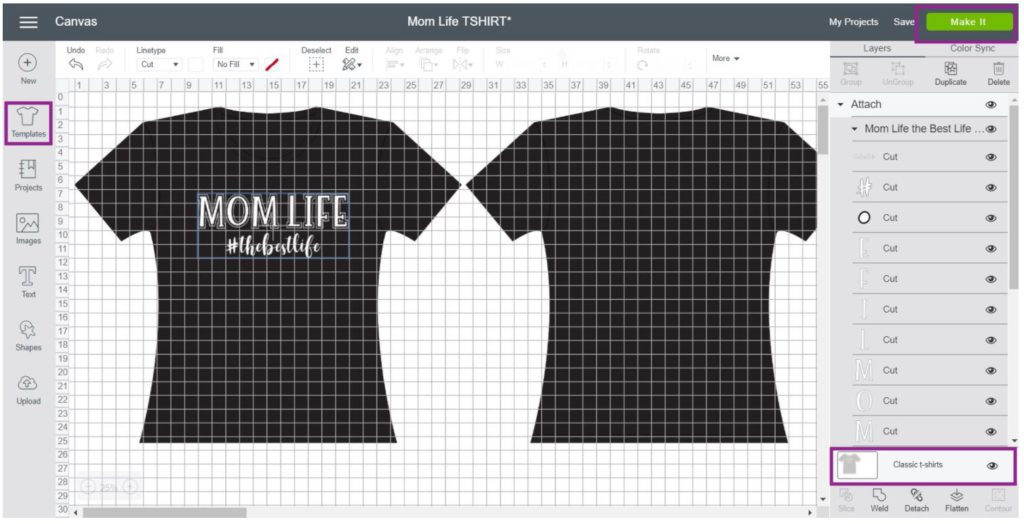 For this particular case, I used the classic T-shirt and then I changed the size to small and the color for black because those are the colors I wanted to use for my original design.
There is not always going to be an option for you are looking for. For instance, there was no template for long sleeve t-shirts. However, the short sleeve template helped me to decide the final size of the design as well as the position of where I wanted to transfer.
If you have more doubts about templates, make sure to read my complete guide on how to use them.
Once you attach all of the layers and you are happy with the way your design looks, click on "make it" to send your design to your MAT.
2. Make it – Mirror On Image
We are getting closer to completing our project!
After clicking on "make it," you will be prompted to connect your machine and follow the cutting process.
However, for Iron-on or HTV projects, it is crucial (EXTREMELY) that you turn on the Mirror Option located on the left panel area.
The reason you need to do this is that when you cut this type of material (Iron on), you are cutting it upside down. Therefore if you forget this vital step – as I have in the past – your design will look backwards on the transferring process.
Not fun at all!
Right?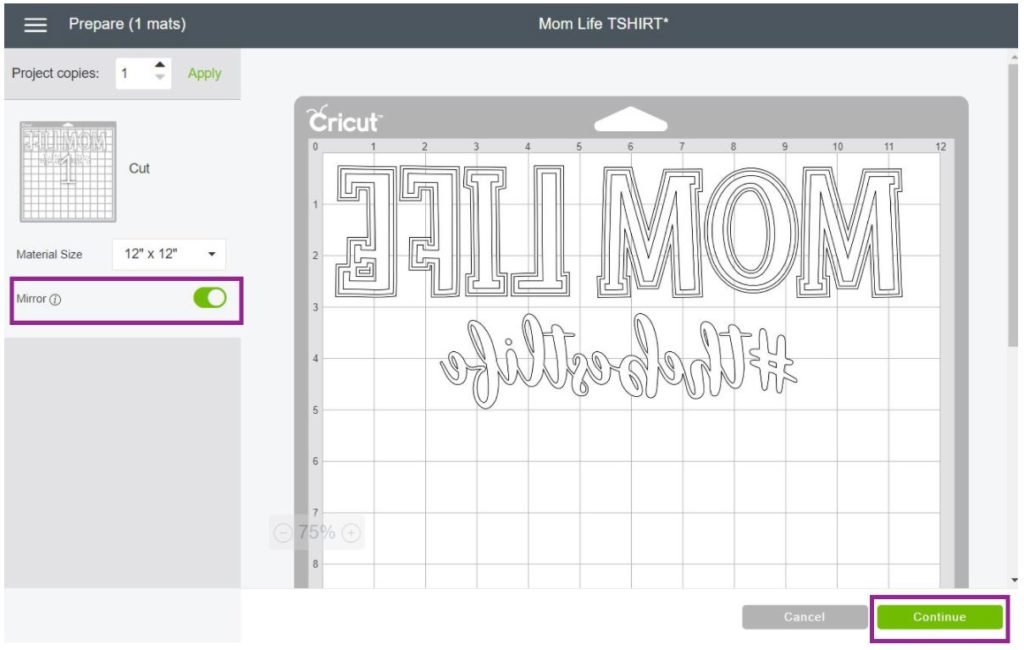 3. Select Materials:
At this point, all of the steps, I just explained, will work with any of the Explore family machines or the Cricut Maker.
Now, since I want you to be able to create this project no matter what type of machine you have, let me show you the little differences you will see on each machine.
Cricut Maker Instructions: select the material by browsing all of the materials Cricut has to offer. I already had mine marked a favorite, so I was able to pick it from here.
Cricut Explore Air 2 – Instructions: Since you will be using HTV – a very popular material – you need to move the smart set dial to the Iron on option.
Once you do that, Cricut Design Space will show up the material on the screen.
Easy Peasy!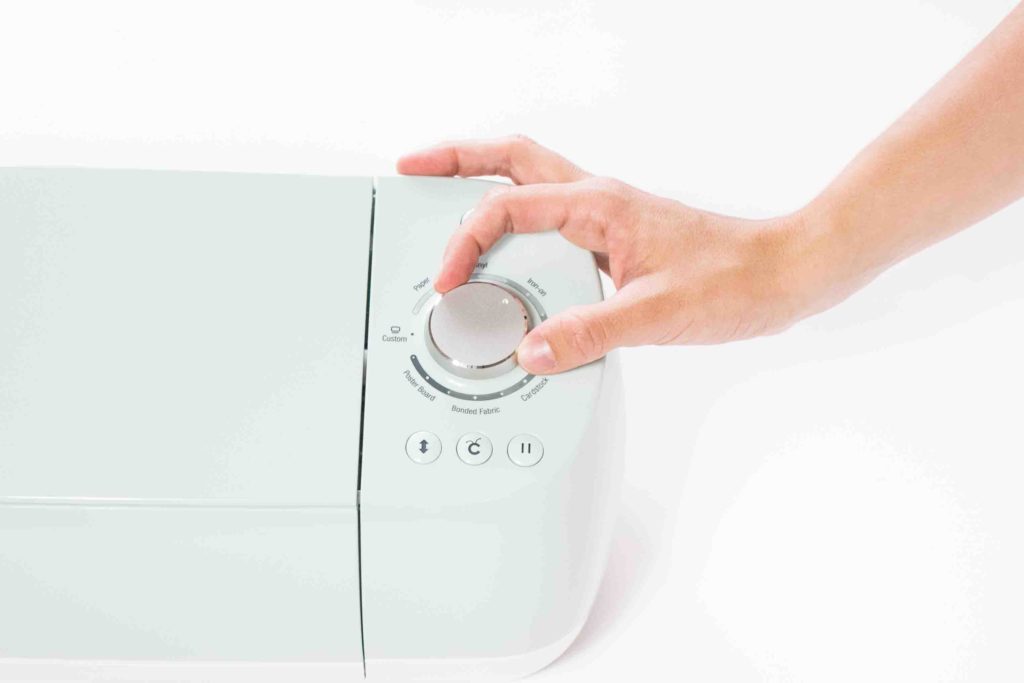 Cutting and Weeding – Best Practices
Finally!
It's cutting time.
We are using the light-grip blue mat because vinyl is a very thin and light material. If you want to learn more about all of the mat differences, check out my great guide!
To cut your design to perfection follow the next steps:
Step 1: Place Iron-on vinyl on your mat pretty/shiny side down; this is very important. If you place it the other way, you will not cut the vinyl, but the transparent material that it is adhered to.
If the material seems to have bubbles, you can gently use the scraper to smooth out the vinyl on the mat.
Step 2: Install the fine point blade and load your mat into the Cricut by tapping the little arrow on your Cricut Machine. After you are done with this, go ahead and press the make it button and see the magic happen.
Cricut Design Space will inform you when your design is 100% cut. When this happens, unload the mat to weed out the files.
Step 3: Weed all of the negative parts of your design. I recommend that you open the image again to make sure you cut out the right negative pieces.
I wish I had followed this advice! I removed the "LIFE" part of the file the wrong way, and I had to cut it again. So, take your time and enjoy the process.
I find weeding so relaxing!
Transfer Vinyl to T-Shirt
The moment of truth!
After doing all the steps in Design Space (cutting, and weeding), we are now able to transfer our beautiful design to our T-Shirt.
Yas!
Do you remember I said I was going to use the "BABY LIFE" file at the end of this tutorial? For this part, I will be using a standard household iron and the EasyPress 2.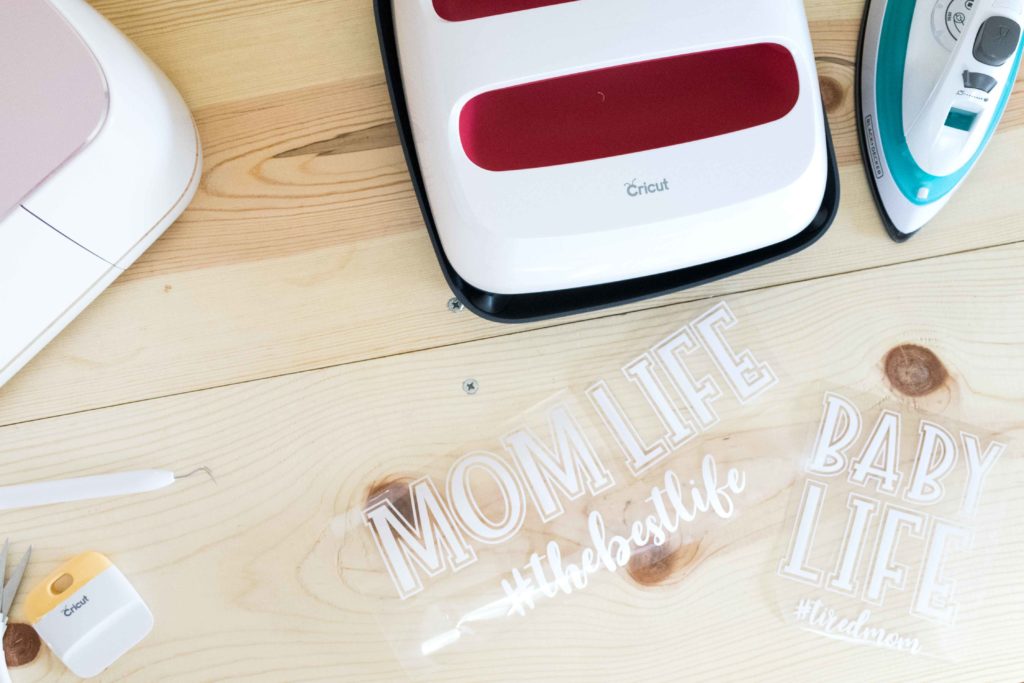 Also, something to keep in mind and is worth mentioning is that Cricut recommends you prewash your items without any fabric softener before you press them.
However, since I can be a little rebel sometimes, I went online to see other opinions on forums. And I found that people use them on new clothing as well, and never have any problems.
So it's up to you. In the future, I will plan on comparing how this affects after washing. In the meantime, follow Cricut's recommendations.
Let's get started.
Transfer Iron On with EasyPress 2
These instructions also work with the first version of the EasyPress. So you can use that one as well.
The temperature that Cricut recommends for everyday Iron-on as a material and cotton as a base is 330 °F so go ahead and preheat your EasyPress.
f you have other base material or another type of vinyl like foil or glitter, make sure to check Cricut's guide, for most optimal results.
Check out the next gallery and let's chat about each step.
Step 1: Once your EasyPress is preheated, get rid of some of the wrinkles and press for about 5 seconds on the area, you plan to transfer your design.
Step 2: Gently apply pressure for 30 seconds on your design. As you can see, I have the medium-sized press; and since this design was larger than the EasyPress, some areas had to be overlapped.
I pressed for 30 seconds on each side; this is ok for the regular Iron-On, so don't worry about it. However, if you are working with foil Iron-on try, not to overlap any areas as this material is quite delicate.
After you are done with pressing, turn the T-shirt around and press for about 15 seconds on the back to finish up the process.
Step 3: Wait a little bit until the design has cooled off enough, and then peel it off while it is still warm to the touch.
Learning Experience: If you have the EasyPress Mat, I recommend you to use it, as it allows you to press the garment deeper against the heat, compared to using a firm surface as I did.
If you don't have it, use a towel between or underneath your T-shirt. It works just as well!
Since I didn't use the EasyPress with a towel or mat, I had to press the front another couple of times.
You've been warned!
Transfer Iron On with Regular Household Iron
Finally, and for the FIRST TIME, I had success with my household Iron! Every single time was just a disaster.
No matter how many tips I saw online, nothing worked until it clicked! What if I use a towel as Cricut Recommends with the EasyPress? The result was mind-blowing.
The thing that I don't like about the Household Iron is that sometimes you do need specific temperatures for different types of materials. Though this worked like a charm for the first time for me, I have to admit that I still love my EasyPress 2.
Step 1: Preheat your Regular Iron to the max heat. In the meantime, place a towel inside the onesie. You need to make sure it's smooth and even across the area that you plan to iron your design.
Step 2: Get rid of wrinkles and press for about 5 seconds wherever you want your design to be located.
Step 3: Place your design and cover it with a thin cloth or with parchment paper (my favorite).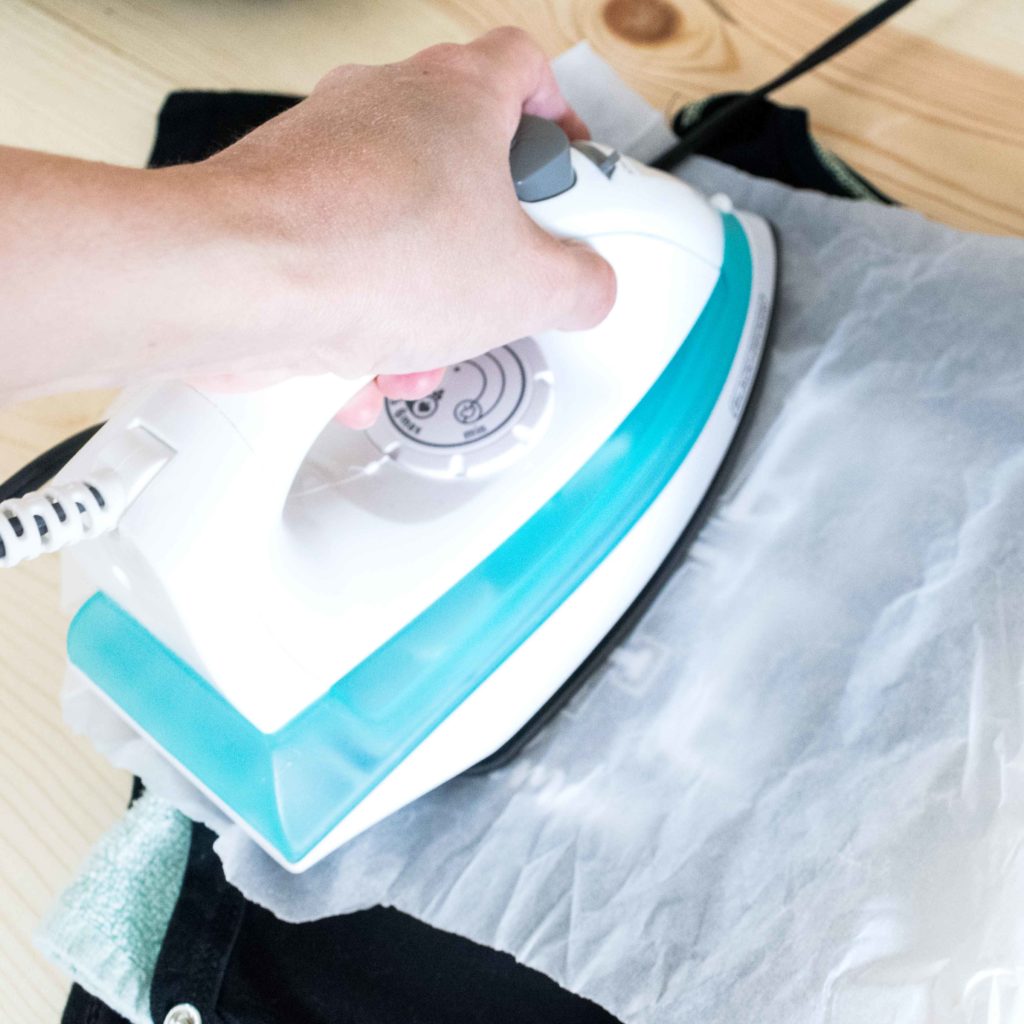 The reason why I used the parchment paper here and not with the EasyPress is that usually, you will require more heat presses with the regular Iron. So, if you expose your T-Shirt for that long, you will burn your clothing.
It has happened to me, and it can happen to you!
Step 4: Medium press for about 30 seconds on half of the design in a vertical way; then press for another 30 seconds on the right side. After pressing vertically, press horizontally on the top half of the design for 30 seconds, and then the top-bottom for another 30.
Turn around the T-shirt and medium press the back of the onesie (with the parchment paper on top) for about 30 seconds.
Step 5: Wait a little bit until the design has cooled off enough, but peel it off while it is still warm to the touch.
Note: Always allow 24 hours before you wash your brand new T-Shirt. Cricut recommends you dry inside out. However, I follow the garment washing and drying instructions of the base garment I used. Never Bleach!
T-Shirt Making Overview
How to Make Custom T-Shirts with your Cricut
Materials
Iron On or HTV
Black Long Sleeve T-Shirt
Parchment Paper
Small Towel
Tools
Cricut Maker or Cricut Explore
Cricut EasyPress (Optional)
Regular Iron
Weeder and Scraper
Instructions
Upload Design to Cricut Design Space
Resize, attach, and Make it with Mirror ON* and follow Cutting Instructions
Load Mat with Iron On material pretty side down** and Fine Point Blade
Remove from Mat and weed design
Transfer to your T-shirt*** and peal when backing is still warm to the touch.
Wait 24 hours before washing. Don't use bleach
Notes
*Always make sure to turn Mirror ON when working with HTV; If not, once cut, your design will be backwards.
** Remember to place Iron On or HTV pretty or Shiny side down.
*** If using a regular Iron, heat to max temperature and cover design with parchment paper to protect garment. Use towel to press against the T-Shirt and the Iron.
If using the EasyPress 2, preheat to 330 °F and press for 30 seconds in front, and then press for 15 seconds on the back. Use Towel or Easypress Mat to press against T-shirt and EasyPress.
Congrats – You are a Pro at making T-shirts with your Cricut
I hope this tutorial was very useful for you. I would love to see your creations.
Do you know that it takes me around 15 hours of work to complete a single Cricut article? I know, it's crazy! But I like to make sure that you understand EVERYTHING!

I would appreciate your support on Instagram / Pinterest / YouTube / Facebook as I am trying to grow my audience so I can keep producing great content!