I love my husband!
Seriously! Like a lot… Lot lot lot!
Here's the thing, we are moving out of State, YAY!
It's so exciting, but also busy. There's been many changes – job, apartment, packing, etc – and Jer and I haven't been able to spend that much time together!
I am the kind of girl that likes sneaking little notes in my husband's pocket, wallet, computer, bible, you name it! And, since I knew he would be gone for a while I decided to design something special for him!
The outcome was…
Wait for it…
These super cute Sneaky Husband Pocket Cards!

Sneaky Husband Pocket Cards

Surprise the love of your life and make him smile with these adorable Sneaky Husband Pocket Cards! Hide them in his pocket, wallet, computer, lunch and more!
What You Get
Do you want options?
Yes please! ??
I designed four different options for you to download! You can see them in the photo down below. I personally loved the cards with the watercolor stroke. They are so cute.
Let me tell you! Don't be surprised if your husband brings you flowers after you sneaking these cute cards!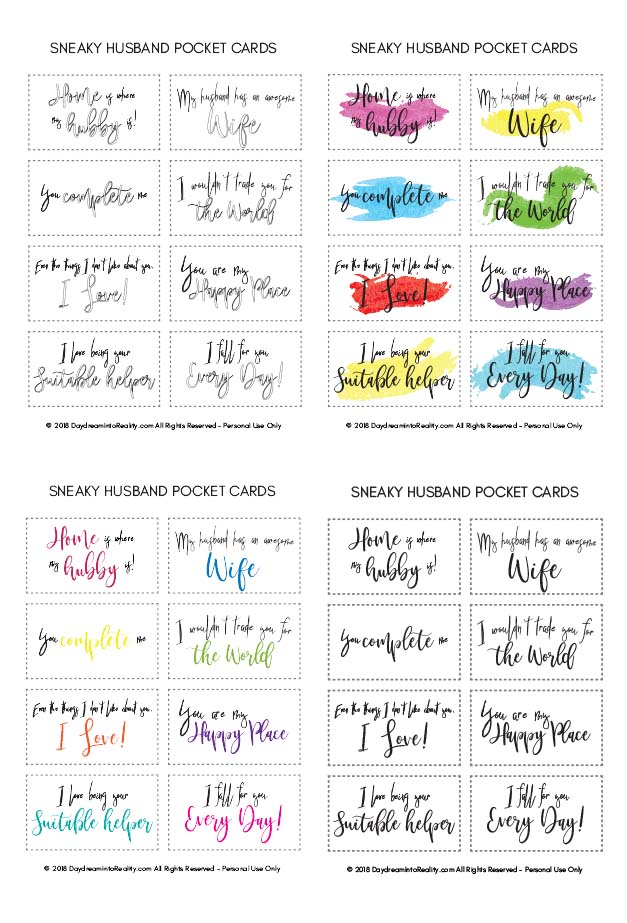 Update note: I want to add true value to your life… I've created a great library for you to download this printable and hundreds more. You can access and download them for FREE!
Have any doubts? You can learn more about it here or see a little preview at the end of this post!
In fact, in the past this printable was available for downloading here. Not anymore, because I want to give you more resources for you to enjoy. 
This library is a big deal and once you see it. It will be your first choice to go when you are looking for FREE resources.
Trust me!…. YOU JUST WON THE LOTTERY!
Instructions
Super simple!
Download the file you like the most – or, all of them if you can't decide which one is the best! – and cut around each the dashed square of each card.
It can't get easier than that!
Tips: For this project I recommend you to use cardstock paper. Although these cards will look cute in any paper; I love the finish that cardstock adds to them!
Little Behind The Scenes
Here's my little man!
Notice how little those sucks are? Lol!
He's such a camper. I really enjoy working by his side.
Get the printable along with hundreds more!  Don't believe me? See a little preview at the end of this post!
So…
What did you guys think?
Did you enjoy this post? What was your husband's reaction?
Let me know in the comments down below! I'm looking forward to hearing from you!
You May Also Like…